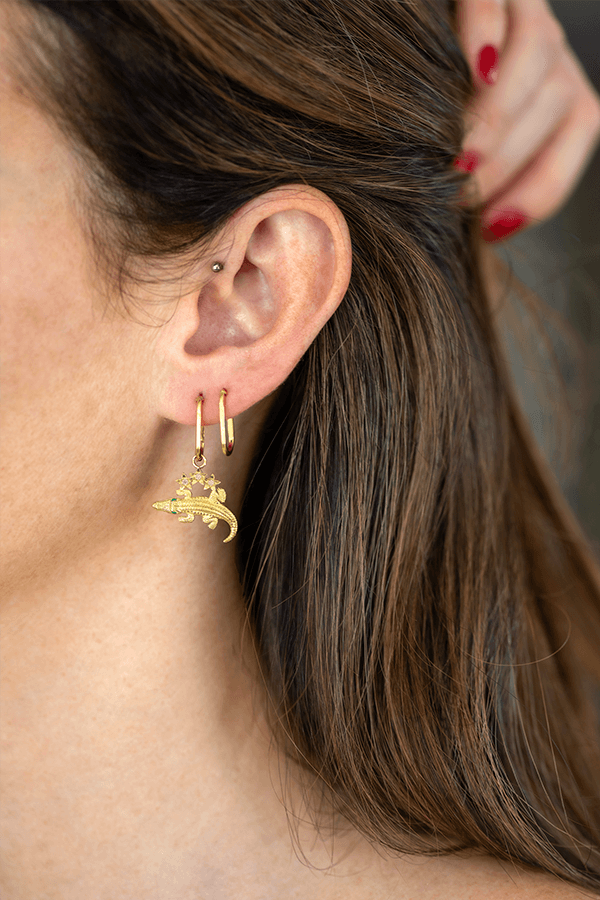 COCODRILO BABY BLUES EARRINGS
This piece is manufactured by request. It will take approximately 4 -5 weeks to get to you.

This bird's eye view of the crocodile invites us to pull back the lens and look at the whole picture. Gaining perspective of what really matters, what is truly important to us.

The crocodile, one of the few prehistoric animals still alive today, symbolizes longevity. A fierce hunter, the mother crocodile carries her children in her mouth to protect them. This piece also acts as a reminder of what values we want to pass on to our families.

Handcrafted in 18-karat yellow gold, these earrings are adorned with diamonds and emeralds. The diamond is one of the most durable gems and the emerald symbolizes strength, purity and love.

• 18k Yellow Gold.
• 17mm long.
• 6 Diamonds 1.5mm.
• 4 Emeralds 1.2mm.
• Made in Spain.
• The pair is sold together with the pair of Hoops earrings (price included) but you can also purchase them separately. Please contact us at hola@lehona.com to purchase a unit of the earrings.
Handmade by artisans in Spain
Shipping within 2 to 6 weeks
COCODRILO BABY BLUES EARRINGS